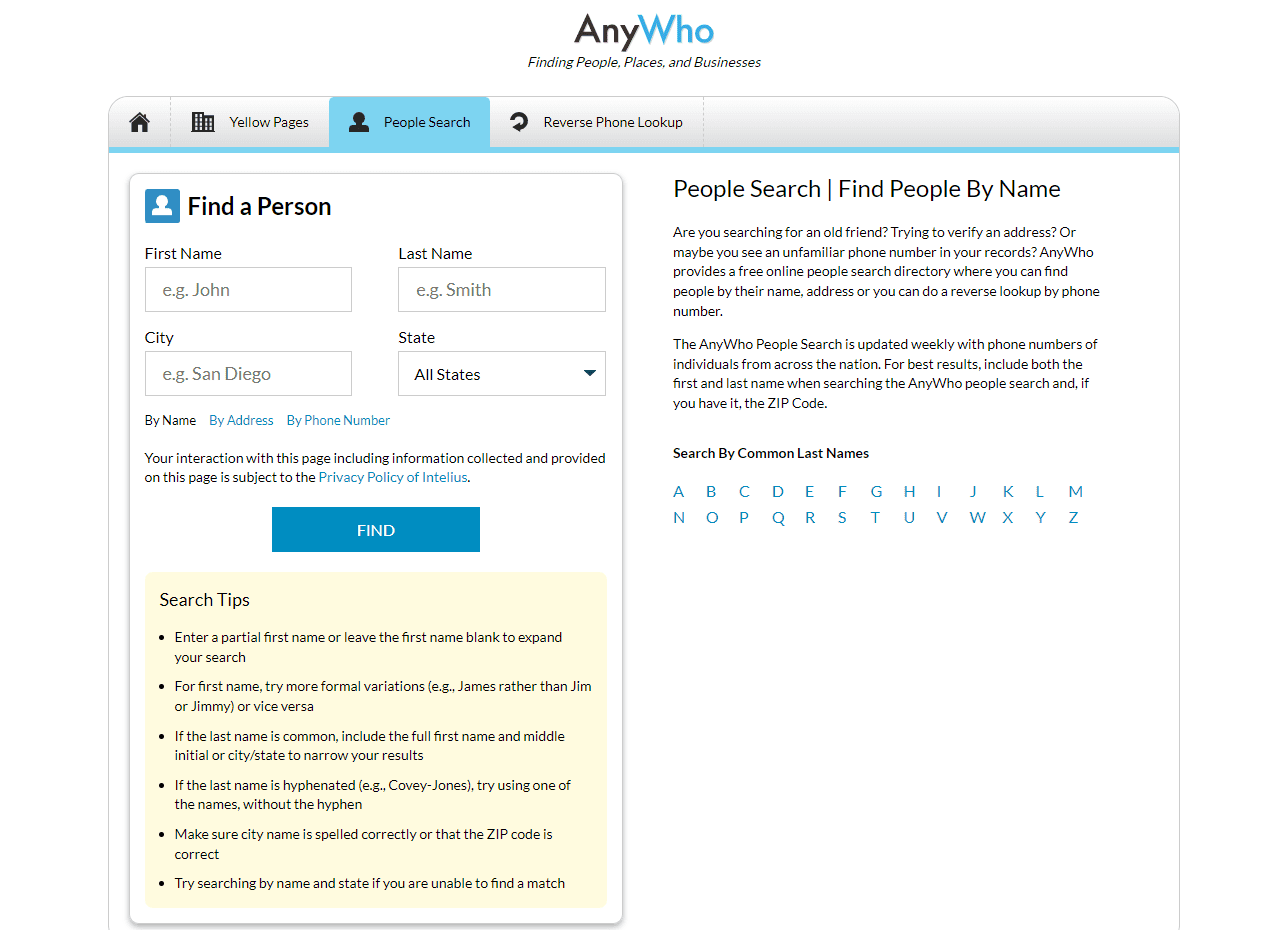 If identity theft and reputational threats are concerns, our AnyWho opt-out guide is designed to help you navigate the AnyWho online removal request form.
In the digital age, the sheer volume of information available on the web is staggering.
Anyone with an internet connection and a few minutes of time can quickly locate detailed personal profiles about nearly any person they meet.
If this sounds concerning, it should be: criminal acts like identity theft are at an all-time high. With just a few clicks of a mouse, a stranger can locate your personal information and steal your identity to commit financial fraud, not to mention ruin your online reputation in the process.
If you want to take control over your personal information, our AnyWho opt out guide is for you. In our guide, we'll show you step-by-step instructions for completing the opt out process for AnyWho and similar people search sites.
What is AnyWho?
AnyWho is billed as a "people search" site that allows anyone to search for the name of someone they meet online or in person.
The AnyWho website states:
"Are you searching for an old friend? Trying to verify an address? Or maybe you see an unfamiliar phone number in your records? AnyWho provides a free online people search directory where you can find people by their name, address or you can do a reverse lookup by phone number."
The AnyWho search tool offers three primary functions:
Yellow Pages — to locate business information
People Search — to find details about individuals
Reverse Phone Lookup — to find out who a phone number belongs to
AnyWho gathers information and republishes it for users. The major data broker Intelius now operates AnyWho. In fact, data broker websites form intricate networks; Intelius is part of the PeopleConnect family that includes TruthFinder, InstantCheckmate, and USSearch.
Data mining companies just like AnyWho or Intelius provide this information freely or may charge only a small price for access.
What are Data Broker Sites?
Data brokers are companies that are in the business of information collection and sharing. Each data broker offers different tools and functions for their users; some will include phone lookup services, while others focus on court records, criminal records, and other legal documents. Some provide only basic information without a subscription. Other data broker sites will charge a premium for information access, usually in the form of a monthly or yearly subscription.
Information is collected from multiple online sources; we'll cover the three primary sources in a later section.
Each data broker site is regularly updated with new information. As new information is added, cybersecurity concerns follow. If you've ever been a victim of online harassment, get a lot of spam mail, or have had your online privacy violated, chances are the perpetrator found information on AnyWho or any number of other data brokers.
What Information is Available on AnyWho?
By typing in a person's name and location, an AnyWho user is presented with detailed search results that may include:
First and last name
Current phone number
Past phone numbers
Current mailing address
Address history
Names of relatives/ family members
Age
Email address
Arrest or criminal history
Social media details
Financial information such as salary or other details
AnyWho users are directed to the Intelius page for results. Intelius charges a small fee for access to the report.
This vital information represents a huge threat to individuals concerned about digital privacy. With this information, your identity can be stolen or spoofed, resulting in reputational damage and illegal online activity like tax fraud, financial fraud, or impersonating you for monetary gain. These are serious risks.
In our section below, we'll provide detailed instructions on how you can make a removal request from AnyWho. This opt out request will delete your personal information from the site and help to restore your digital privacy.
Are There Other Data Broker Sites Like AnyWho?
Data brokers number in the thousands. What once started out as a fun and easy way to look up friends or family members has now become a billion-dollar industry. Data brokers have all but replaced traditional business directories and people search tools like Yellow Pages, White Pages, and the phone book. With reverse phone lookup services, finding out who owns a phone number is fast and efficient.
Other major data brokers include:
Intelius
Glad I Know
TruthFinder
PeopleFinders
Spokeo
Instant Checkmate
ZabaSearch
Not all data brokers are set up as people search sites; other data mining companies may offer corporate information to business owners, help sales teams target specific groups for advertising and marketing, or may sell subscriptions to government agencies for the purposes of tracking individuals in the digital environment.
The AnyWho Opt-Out Process: Guide to the AnyWho Opt Out Page
If you're ready to remove your personal information from AnyWho, our data removal guide provides easy instructions.
Visit the PeopleConnect Suppression Center (opt-out website) at: https://suppression.peopleconnect.us/login
Enter your email address and agree to the Terms of Use, then click "Continue."
You will receive a verification link via email. Click the verification link in the email to proceed with the opt-out request.
On the opt-out form, enter your birth date and click "Continue."
You will be directed to a page where your full legal name is shown. Click "Continue" if this is your legal name.
You will be redirected to a records page where you can select the record that describes you. It may take a few minutes for your record to be displayed.
Click the exact listing that represents you and follow the instructions.
You will need to select a phone number or email address for further verification. Once you do, you will receive a verification code to enter.
Finish up your opt-out request according to the instructions on the verification page.
Once you've successfully submitted your request, PeopleConnect will process the opt-out request. In 5-7 business days, your personal information will be removed from the AnyWho database.
If you prefer to request removal via mail, you may send a removal request form to:
Intelius
Attn: Privacy
501 W. Broadway Street, Suite 800
San Diego CA 92101
You can also send a request via email to privacy@intelius.com or privacy@peopleconnect.us.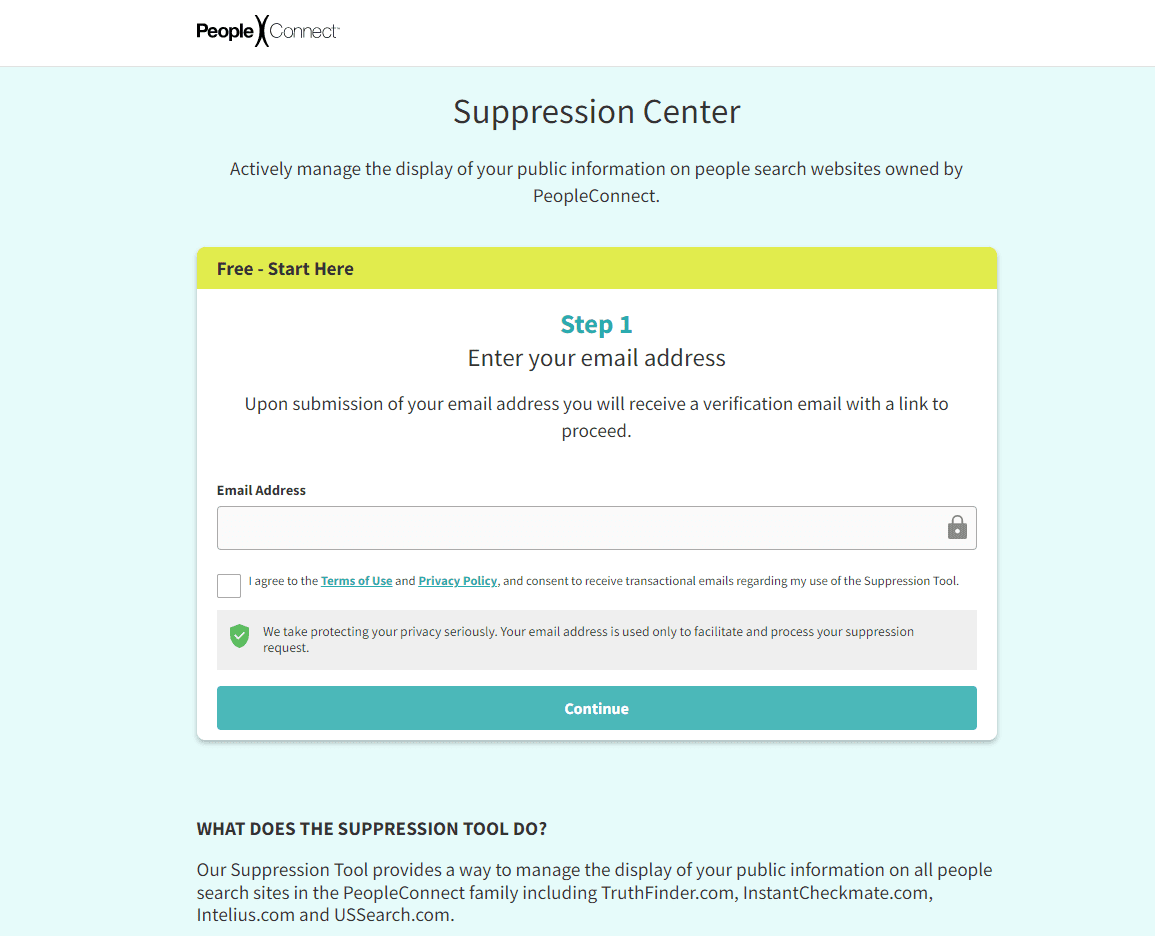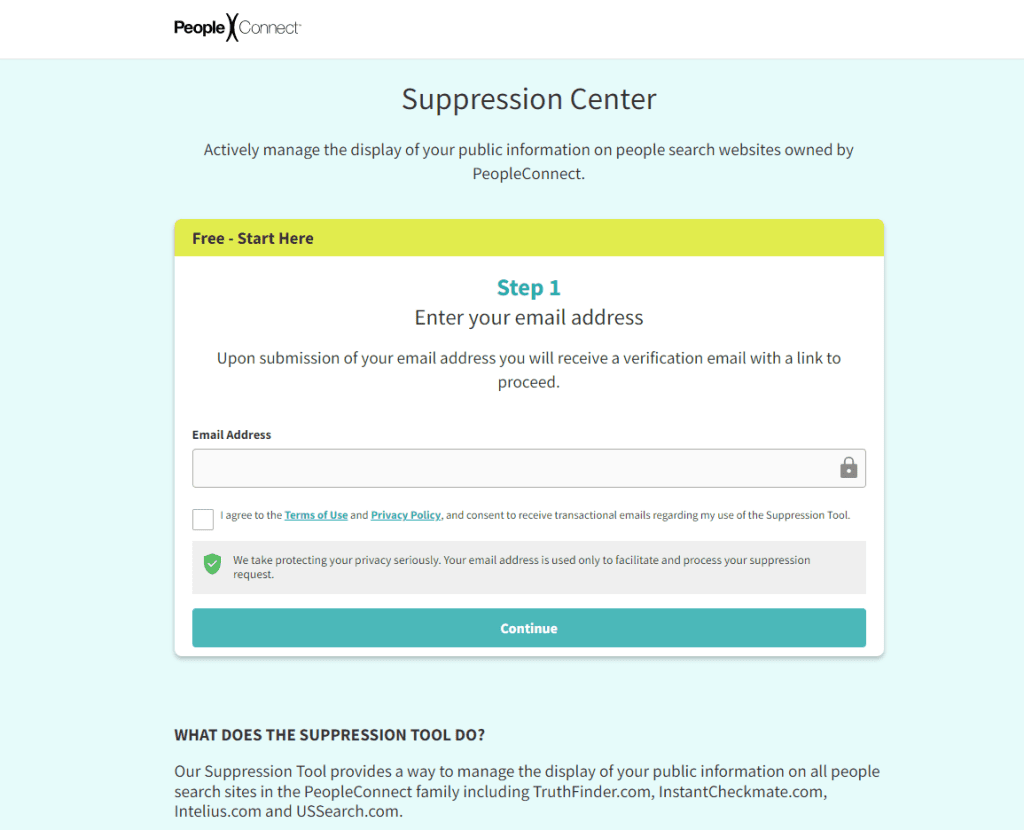 How Did AnyWho Get My Personal Information?
AnyWho gathers information from three primary sources:
Public Records
If you've ever applied for a business license, marriage license, driver's license, or dealt with a government agency in any way, your records have been collected and shared. These are referred to as public records; most government agencies are required by law to make them available to anyone. In many cases, criminal and court records may be visible to anyone who chooses to look.
Other Data Broker Sites
As mentioned earlier, data brokers form intricate webs and typically share information with each other. They may share this information freely or sell it to other data brokers.
Third-Party Information Sources
Data brokers have access to nearly every online directory and information source, which can include social media profiles, personal and professional websites, user forums, and chatrooms. Each of these sources may provide the details the data broker needs to create a complete record on an individual.
How to Protect Your Personal Information from Sites Like AnyWho
When you've chosen to opt out of AnyWho and data broker sites like it, you've taken a huge step toward protecting your digital privacy.
Here are additional privacy tips:
Think about the information you're sharing on social media. Family names, pet names, and other personal details probably shouldn't be posted on your Facebook or Twitter accounts.
Use a Virtual Private Network (VPN) to protect your information.
If you share a computer with someone else, use the private or incognito browser setting.
Create strong passwords and change your passwords periodically.
Use antivirus and anti-spam software to protect your computer's data.
Stop giving out your phone numbers or email addresses at retailers. Retailers often sell this information to data brokers.
Opt out of any data brokers where you find your personal information. This is an ongoing process, as your details may appear on new sites.
Congratulations! You've just secured your privacy and made it harder for cyber criminals to steal your identity.
Contact OnlineReputation to Learn More About The Data Brokers Opt-Out Process
OnlineReputation is a leader in the online reputation management services information industry. Our insightful guides explore how you can take control of personal data on the web.
Web search results can make or break your online reputation as well as put you at risk for identity theft or criminal acts. With our step-by-step opt-out guides, you can protect your digital privacy and protect the reputation that means so much in the digital environment.
To learn more about online reputation services, including powerful content removal and content suppression solutions, contact our team today at 844-230-3803 for a free reputation analysis.
If identity theft and reputational threats are concerns, our AnyWho opt-out guide is designed to help you navigate the AnyWho …