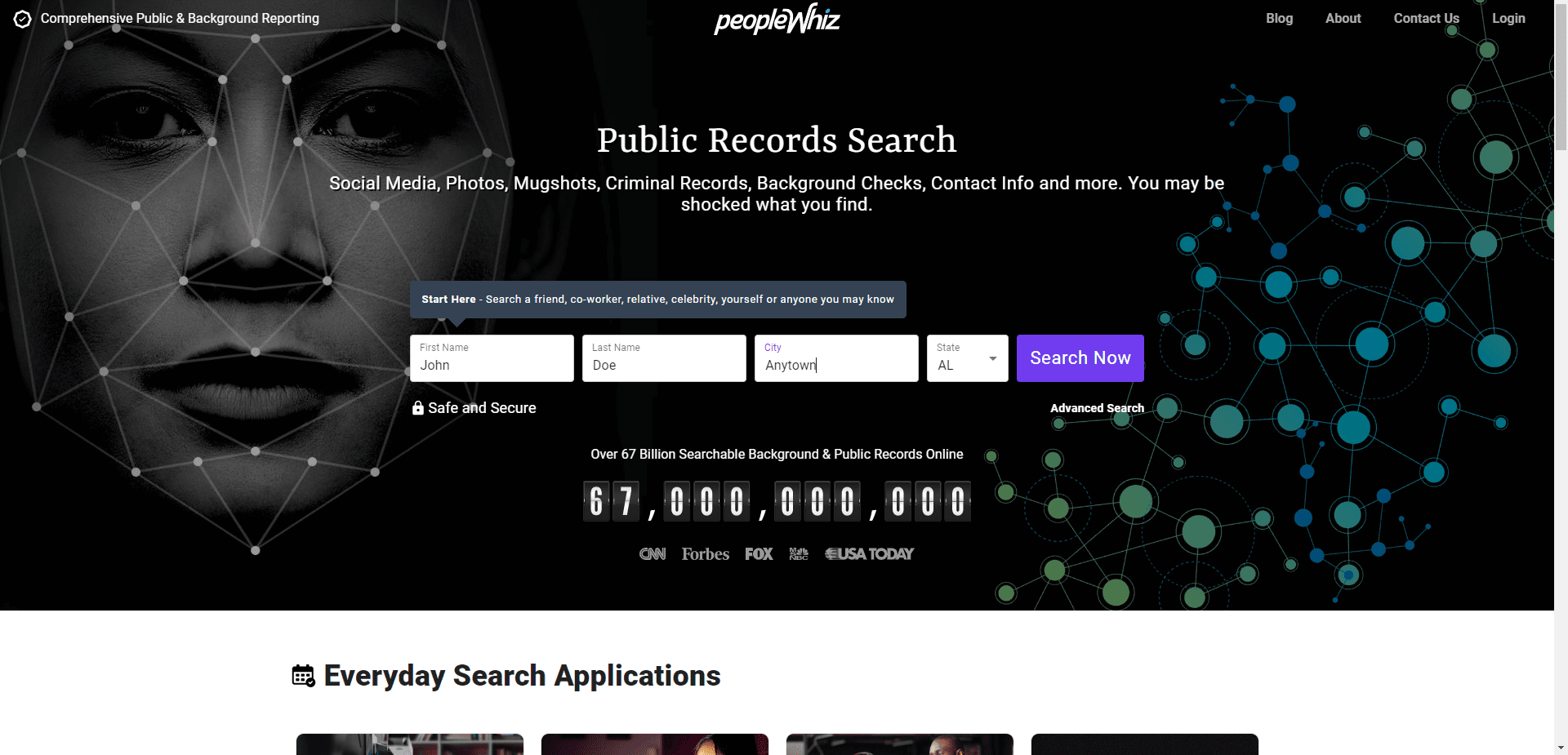 The PeopleWhiz opt out process can protect your personal details from identity theft. It can also keep your online reputation safe. Learn how to complete the PeopleWhiz information removal process in our guide below.
Did you know that nearly anyone with a few minutes of time and an internet connection can find your personal information online?
The popularity of so-called "people search sites" has made information discovery easier than ever before.
With that information available in only a few clicks of the mouse, you and your family face unnecessary risks. Do you want to stop online harassment, eliminate the risks associated with identity crimes, and protect your privacy? If so, our PeopleWhiz opt-out guide can help you take control of your personal data.
What is PeopleWhiz?
PeopleWhiz is a data broker, or a company that republishes information collected from digital sources.
Originally launched as a way to connect people, PeopleWhiz has evolved into a powerful tool for background checks and personal history searches. From the PeopleWhiz website:
[PeopleWhiz is] a site built with one simple goal in mind: streamline public records access on a user-friendly, ultra-affordable platform. Our extensive network of public records databases ensures that if there's a record to be found, we'll find it. Our reports are clearly labeled and organized in an easy-to-interpret fashion.
Despite its ease of use and utility as a background check site, PeopleWhiz cannot be used for certain purposes, according to the Federal Consumer Reporting Act (FCRA):
It can't be used for job screening.
It can't be used to evaluate customer records for business transactions initiated by individuals.
It can't be used to qualify an individual for credit, loans, or insurance policies.
It can't be used to screen tenants for home rental purposes.
It can't be used as part of the educational admissions process.
Most data brokers follow the guidelines contained in the FCRA in order to protect their companies from legal issues.
Similar sites like PeopleWhiz post information relating to the appropriate uses — and common misuses — of searches conducted on these data brokers.
What Information Does PeopleWhiz Have?
When you run background checks on PeopleWhiz, a surprising amount of information can be obtained, including:
First and last name
Names of possible family members
Phone numbers
Current home address
Previous addresses
Links to criminal records and court records
Salary information
Marital status
Email addresses
Licensing information
While access to this information can be valuable, criminals often misuse data brokers. Armed with this information, a criminal can create fraudulent financial accounts, impersonate you, file false tax claims in your name, or commit other illegal acts. This can eventually lead to reputational damage which may need expert reputation repair services.
Why Does PeopleWhiz Have My Personal Information?
PeopleWhis is in the information business and, as such, uses information collected for background check purposes. PeopleWhiz sells monthly subscriptions to those individuals and companies who conduct regular checks on people.
You may wonder, "where does PeopleWhiz get my personal info?" There are three primary sources for data brokers like PeopleWhiz and its competitors:
Public Records
If you've ever applied for a license, purchased a home, been arrested, or had a court case, chances are that records were collected of your interaction with government agencies. In most states and on the federal level, these records are considered public and are available to the public upon request.
Data Brokers
As a data broker, PeopleWhiz uses automated tools to scour the web for your details. They may also purchase from or share details with other data brokers. A data broker is in the business of repackaging information for a profit, often through subscription fees or other means.
Third-Party Information Sources
People use social media profiles every day to share information. Data brokers like PeopleWhiz may also use these social profiles to gather information on individuals. Social media is only one of many third-party information sources; others include personal and professional websites, blogs, forums, and other places where people post information.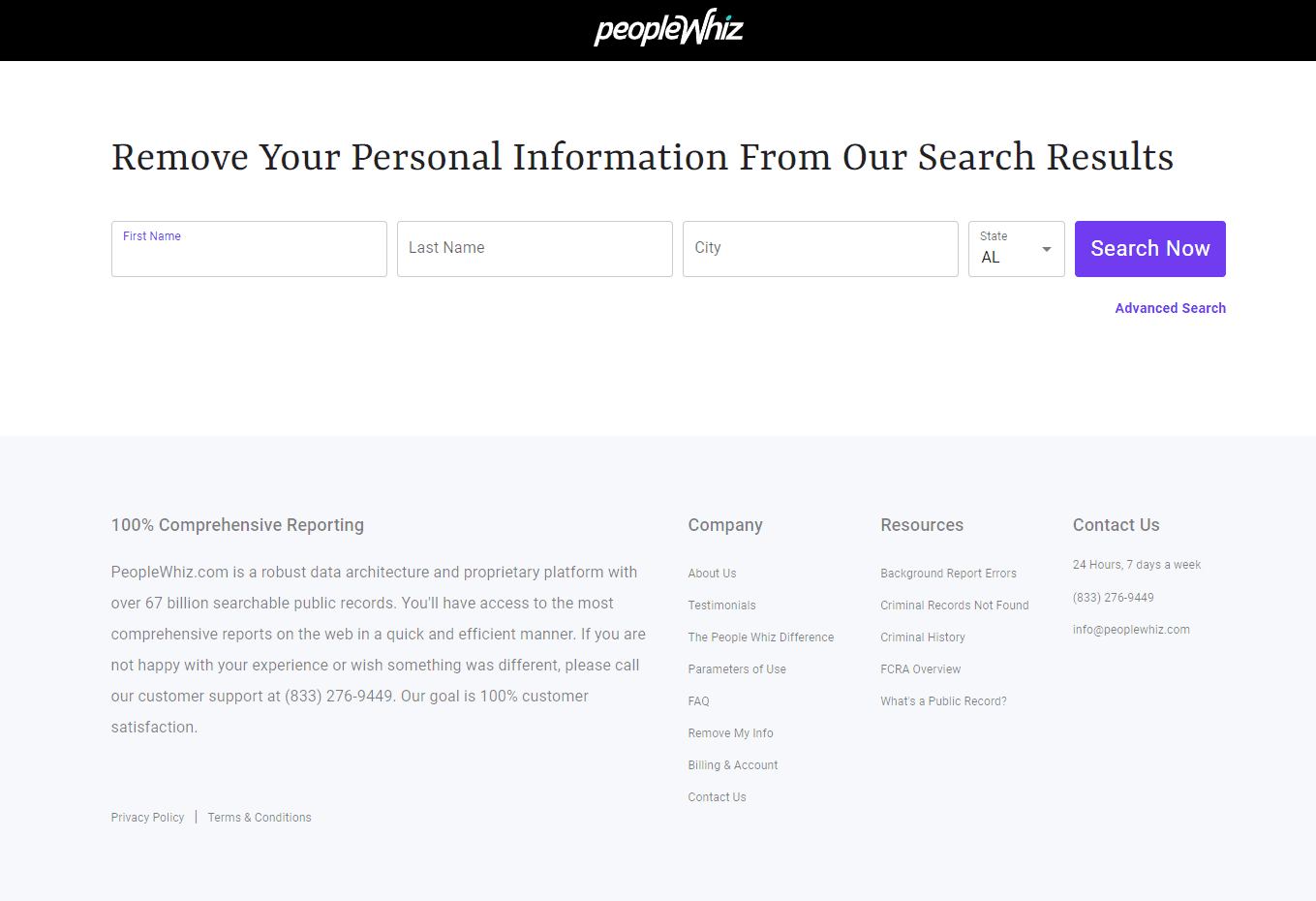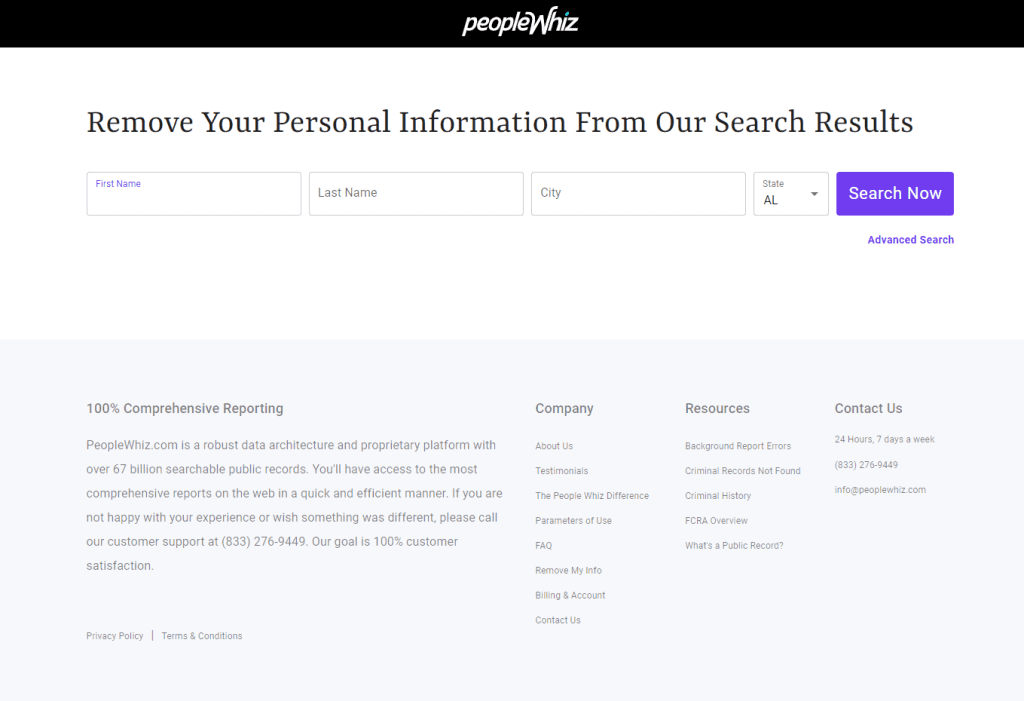 How to Complete the PeopleWhiz Opt-Out Process
If you are concerned that your personal information is available to anyone with an internet connection, you'll be happy to learn that the PeopleWhiz data removal process is relatively straightforward.
Here's our guide to opt-out requests on the PeopleWhiz website:
Navigate to the PeopleWhiz online opt-out form.
To begin the removal process, visit the PeopleWhiz homepage and navigate to the bottom of the screen where you will find a link labeled "Remove My Info." On the next screen, click the link labeled "Start By Searching Your Public Records Here." Alternatively, you can click directly to the opt-out page by pasting https://www.peoplewhiz.com/optout in your browser.
Enter your search terms.
On the opt-out page, type in your first and last name and city, then select the state. Finally, click the button labeled "Search Now."
Select your record, then click "That's Me"
In the list of search results, you'll find your name. Click the button labeled "That's Me."
Enter your email address.
Type in your email address and click the button labeled "Next."
Complete the email verification process.
PeopleWhiz will email you a confirmation link. Click that link and follow the instructions on the PeopleWhiz website.
Provide a copy of your identification.
To ensure that it is you making a removal request, you will have to submit a copy of your ID, which can be a copy of your driver's license, passport, or another state/federally-issued identification. It must be a real picture ID for verification of your opt-out request.
Typically, a person making a removal request will upload a copy of the ID or email a copy to PeopleWhiz.
If needed, you can send a copy of your ID or driver's license via snail mail to:
PeopleWhiz.com
8383 Wilshire Blvd Suite 540
Beverly Hills, CA 90211
Attn: Opt Out Request
In a matter of days, PeopleWhiz will complete your opt out request. You may have to do the process periodically as new records are added to the PeopleWhiz database, but in general, your records will be removed from the site. Rest easy — you've taken steps toward protecting your digital privacy!
How to Protect Your Info from Sites Like PeopleWhiz
Still concerned about your digital privacy? Here are some times to protect your info from sites like PeopleWhiz and similar data brokers:
Limit the information you post on social media, including birthdays, pet names, and vacation plans.
Stop sharing your phone numbers and email addresses with anyone who asks, including retailers and telemarketers.
Protect your computer files with antivirus/anti-spam software.
Use an incognito browser if you use a shared computer.
Create strong passwords using uppercase letters, lowercase letters, and special characters.
Change your passwords regularly.
Turn on two-factor authentication on banking or other financial websites.
Shred any mail that contains personal information like credit card numbers, Social Security numbers, or banking details.
Monitor your children's internet activity and teach them about internet safety.
Contact OnlineReputation to Learn More
OnlineReputation is a leader in the online reputation management services industry. As the best brand reputation management company in the business, our team has worked with thousands of clients, helping them remove personal records, including arrest reports, personal details, mugshots, and criminal and court records.
Web search results can make or break your online reputation as well as put you at risk for identity theft or criminal acts. With our help, you can protect your digital privacy and protect the reputation that means so much in the digital environment.
To learn more about our wide range of online reputation services, including powerful content removal and content suppression solutions, contact our team today at 844-230-3803 for a free reputation analysis.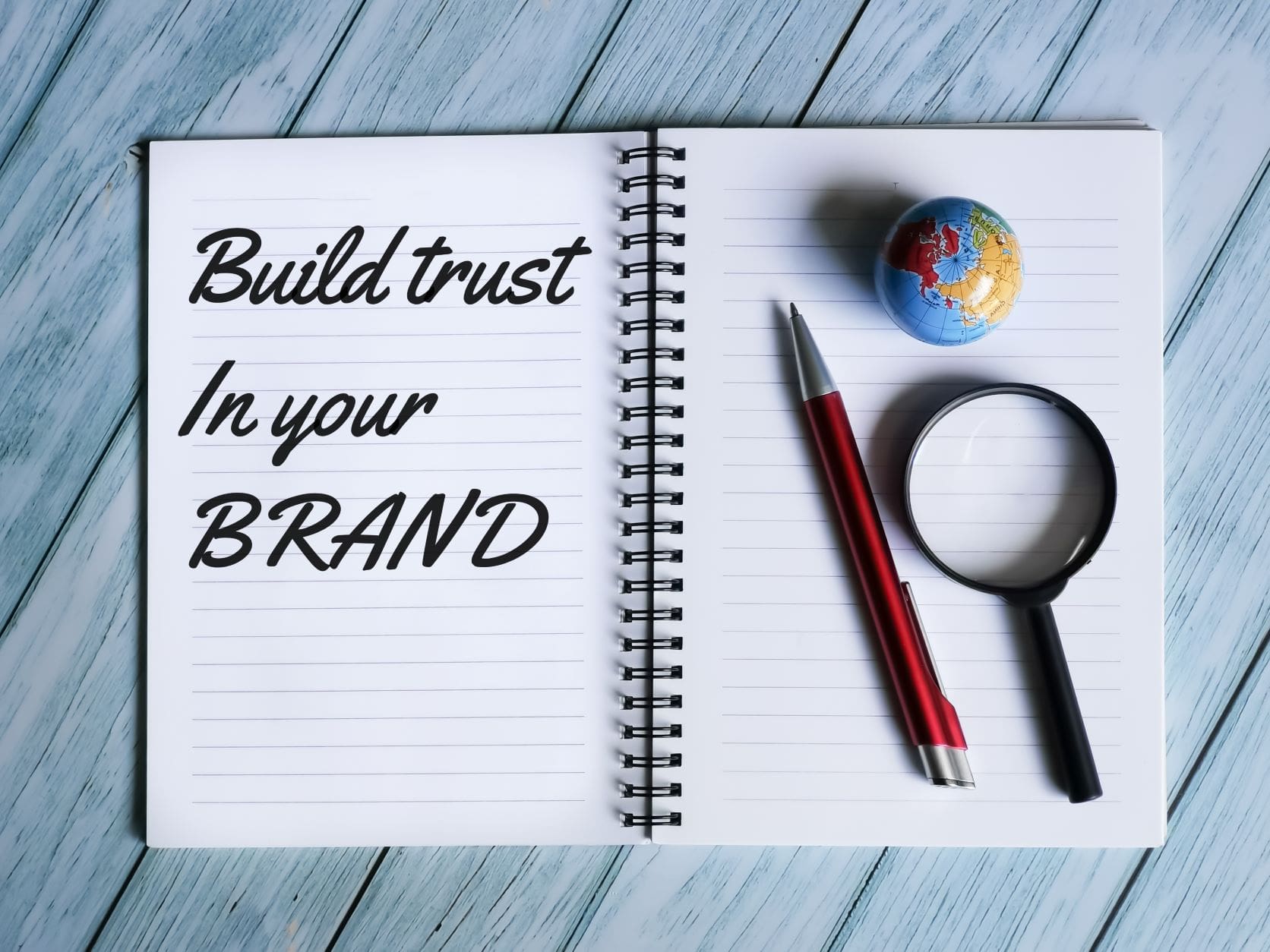 The PeopleWhiz opt out process can protect your personal details from identity theft. It can also keep your online reputation …