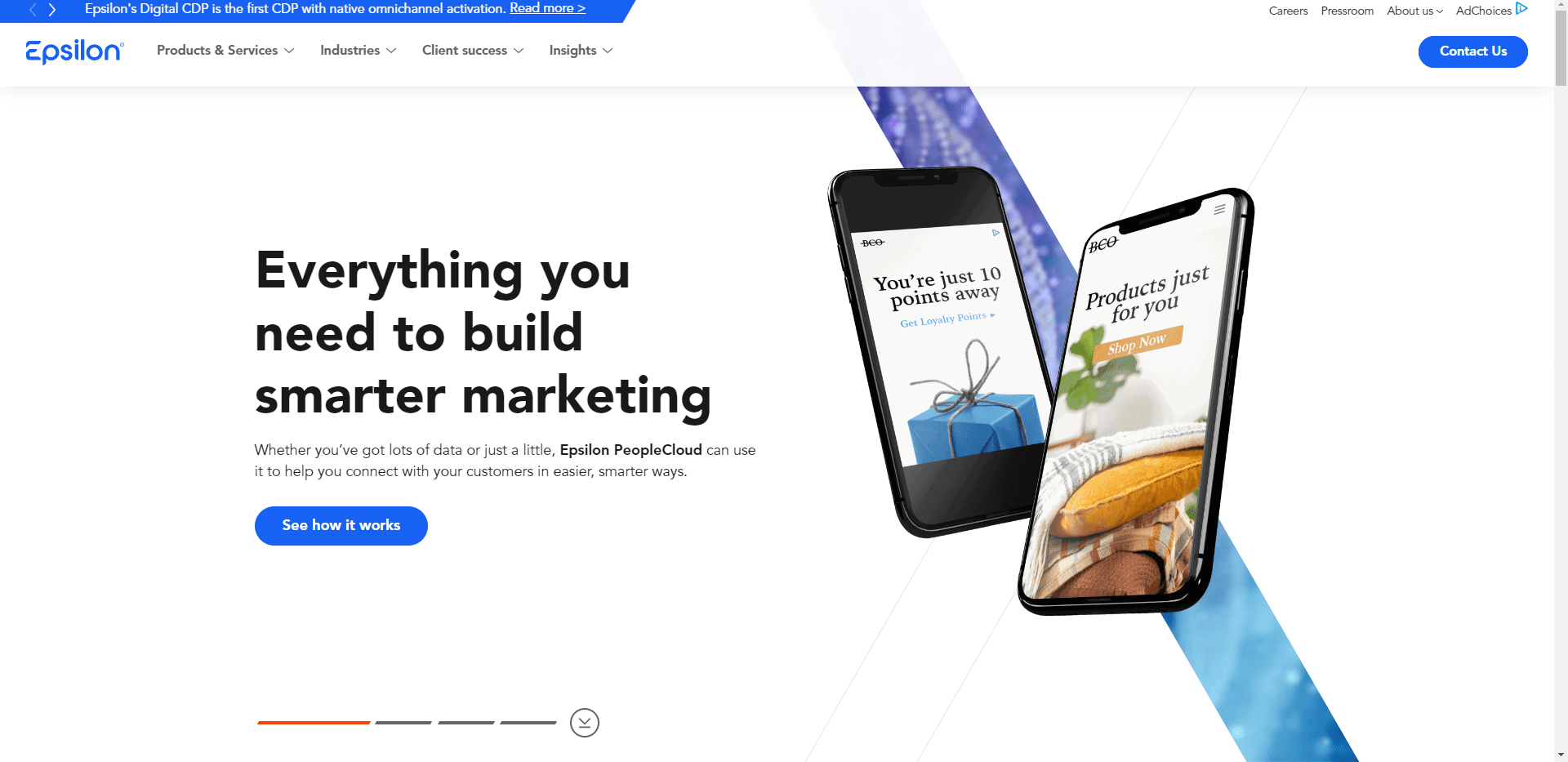 Our Epsilon opt-out guide provides all the details you need to protect your digital privacy by opting out of consumer data collection.
Did you know that in a matter of moments, anyone with an internet connection can quickly find personal info about you or your family members?
If this thought seems alarming, it should be: identity theft is a growing concern for millions of people. Data broker sites collect consumer information, then share it with others on the web. Criminals can gain access to your personal details, potentially putting your financial security and online reputation at risk.
In our complete guide to the Epsilon opt-out process, we'll show you how to get your details completely removed from the site. Let's get started!
What is Epsilon?
Epsilon is a database provider for the marketing industry. The Epsilon database allows marketers to reach over 200 million unique individuals with identity-based solutions.
Companies purchase access to the Epsilon database to view and analyze consumer data for direct marketing purposes. The database provider collects personal info from numerous sources, then repackages it based on subscription fees.
Consumer Data Available on Epsilon
Billed as the "industry's #1 consumer database," Epsilon provides person-level data to help marketers learn who their audience is, what they buy, and what their preferences and values are.
On this second database Epsilon manages (the first being its integrated PeopleCloud suite), consumer data is collected in seven major categories:
Demographic and lifestyle data
Health and wellness data
Finances and wealth data
Merchant-level purchase data
Abacus Cooperative purchase data
Propensity and intent data
Attitudes and preference data
Epsilon is not one of the typical "people search sites;" rather, this data is collected and distributed for more narrow marketing solutions.
Despite this, sites like Epsilon represent a potential threat to your digital privacy and online reputation; if the information were to fall into the wrong hands, those people could pose as you, apply for financial services in your name, or spoof your employer.
What is a Data Broker Website?
The term "data broker" refers to any entity that collects publicly-available information, then shares or sells that data on a third-party website. There are many different types of data brokers, including some for legitimate purposes as well as for entertainment, shock value, or embarrassment of others.
Most data brokers operate as so-called "people search" sites, helping individuals find information about the people they meet in person or online. Data broker sites may provide information freely or charge a subscription fee to view additional information.
Normally, a data broker site will display personal info like:
Full name
Names of family members
Address
Telephone number
Email address
Previous addresses
Legal information, including court records, arrest reports, or mugshots
Property ownership status
Licensing information
Even if a record is incomplete, this data provides enough detail for a criminal to use in identity crimes. By making an opt out request on any data brokers your details are on, you're taking steps to protect your digital privacy.
How Do Data Brokers Obtain Your Personal Data?
Data brokers like Epsilon and other companies collect information from three primary sources:
Public Records
If you've ever applied for a license, been arrested, or done business with a government agency, the information collected during the transaction is part of the public record. Data brokers use automated tools to collect info from these sources, then republishes the info on their own database.
Other Data Brokers
Data brokers typically share information. If one data broker website has data about consumers, chances are other companies will pay for access to that info. This info is sometimes purchased by advertisers to use in targeted marketing campaigns. As a tool for marketers, Epsilon may collect data on its own or exchange info with another data broker site.
Third-Party Data Sources
People leave breadcrumbs every time they use the internet. Information is shared freely on social media platforms, personal websites, blogs, and professional or industry resources. For a data broker like Epsilon, this information is extremely valuable in terms of highlighting consumer preferences and purchasing habits.
Making an Epsilon Opt Out Request
On Epsilon's privacy policy page, there is information about how the company collects and processes personal information. This information is divided into global regions, including the United States and the European Union.
If you wish to opt out of Epsilon's use of your personal data, you may make a request to stop Epsilon from selling that information to others. Here's a step-by-step guide to opt out of Epsilon's data collection practices:
Visit the Consumer Privacy Rights page at https://legal.epsilon.com/dsr/
Select your country's consumer privacy request form from the dropdown box.
Next, select the request type. You may only request one type per submission, but consumers are encouraged to file multiple requests as needed. To protect your sensitive personal data, it is best to select "Delete My Personal Information."
Identity verification is required. To verify your identity, Epsilon provides an online form to complete. Epsilon uses a third-party service provider to verify identity and may contact you for further information.
Once you verify your identity, Epsilon will process your opt-out request by deleting your personal information.
If a person wishes to opt out without using the online form, he or she may call Epsilon at (866) 267-3861, send an email request to privacy@epsilon.com, or mail a request to:
Epsilon
PO Box 1478
Broomfield, CO 80038
Attn: Privacy
Opt out requests are processed once identity verification is completed. In a matter of days or weeks, your personal data is completely removed from the Epsilon database.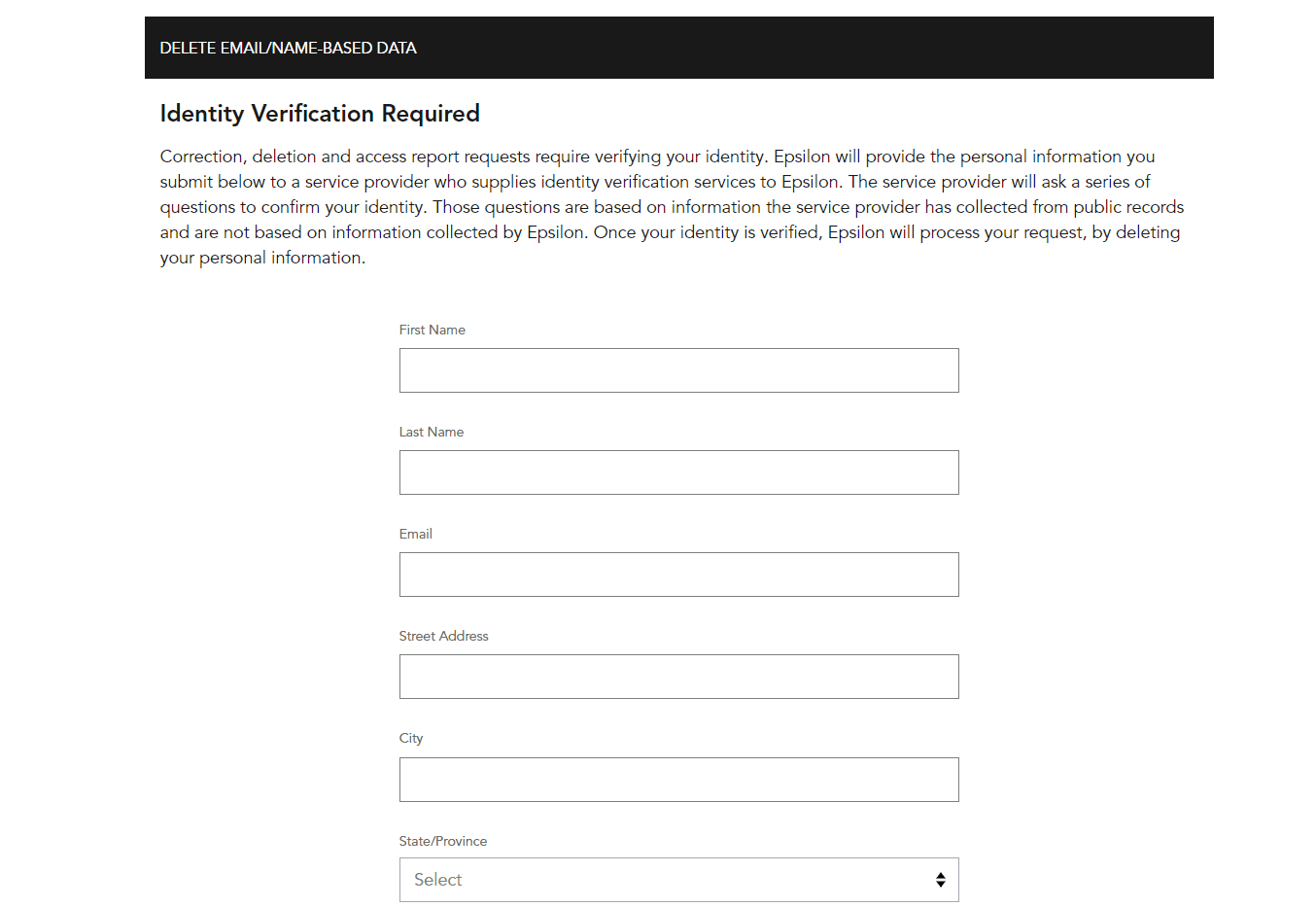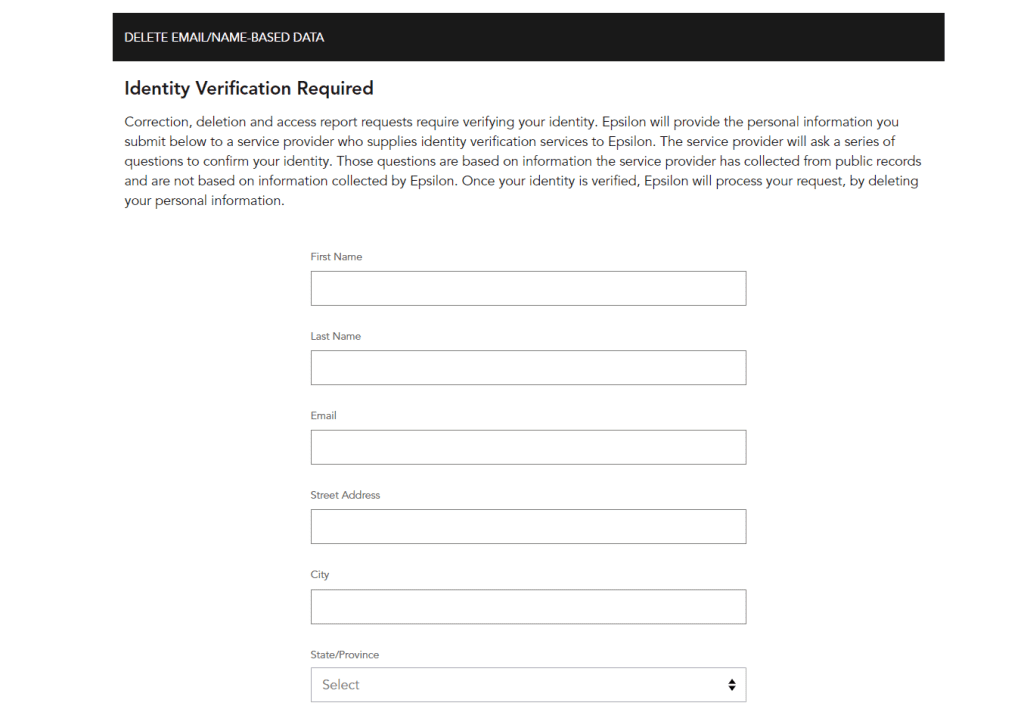 Important Note About Opting Out of Databases
When you opt out of sites like Epsilon, your data is deleted from that site. Unfortunately, this doesn't remove all of your details from the web. There are dozens of data broker sites on the web; unfortunately, you have to contact each database separately to make a request to opt out of data collection.
The process is similar between sites; visit each site and fill out the opt-out request form to protect your digital privacy.
How to Protect Your Personal Info from Sites Like Epsilon
While the opt out process is a great way to protect your privacy in the digital environment, this is not the only solution you need to keep your data — and your family — safe. Here is some additional information and tips to keep databases from collecting or storing info about you:
Limit the information you post on social media, including birthdays, pet names, and vacation plans.
Stop sharing your phone numbers and email addresses with anyone who asks, including retailers and telemarketers.
Protect your computer files with antivirus/anti-spam software.
Use an incognito browser if you use a shared computer.
Create strong passwords using uppercase letters, lowercase letters, and special characters.
Change your passwords regularly.
Turn on two-factor authentication on banking or other financial websites.
Shred any mail that contains personal information like credit card numbers, Social Security numbers, or banking details.
Monitor your children's internet activity and teach them about internet safety.
Contact OnlineReputation to Learn More
OnlineReputation is a leader in the online reputation management services information industry. Our insightful guides explore how you can take control of personal data on the web.
Web search results can make or break your online reputation as well as put you at risk for identity theft or criminal acts. With our step-by-step opt-out guides, you can protect your digital privacy and protect the reputation that means so much in the digital environment.
To learn more about online reputation services, including powerful content removal and content suppression solutions, contact our team today at 844-230-3803 for a free reputation analysis.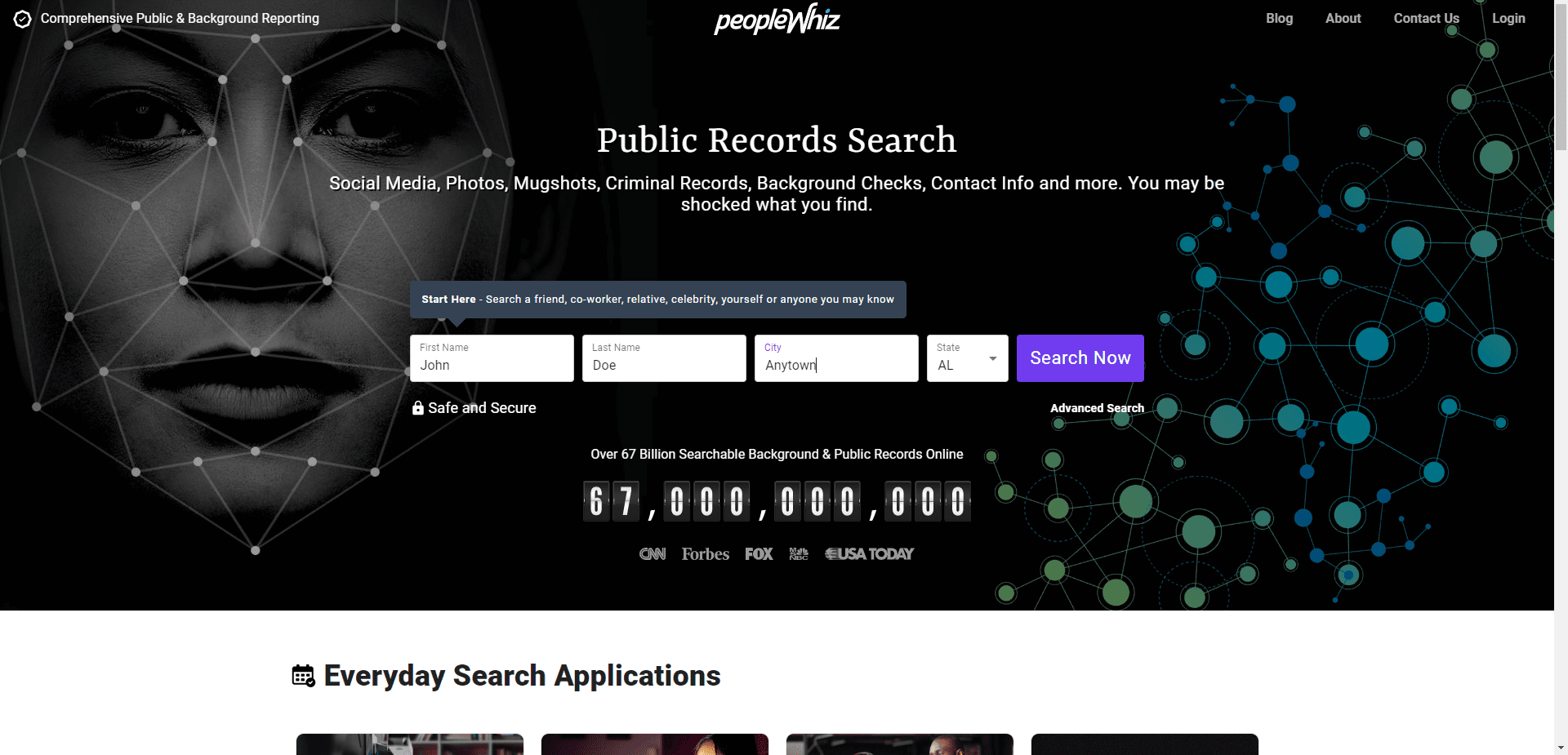 Our Epsilon opt-out guide provides all the details you need to protect your digital privacy by opting out of consumer …