How To Apologize Online: The Ultimate Guide: Learn how to apologize online when confronted with a negative review on social media sites and Google using our guide below. 
Your online reputation isn't just what people are saying about you; it is also about how you react to these comments. No matter how awesome your product or service may be, you'll always come across unhappy customers. Today, customers will rip you to shreds on social sites like Facebook and Twitter, and leave scathing reviews on sites. It might be a misunderstanding. Or it might actually be your fault – mistakes happen.
As mentioned in both this post about handling mistakes and others about how to deal with negative reviews, apologizing should be your first reaction when you're dealing with disgruntled customers. But that slice of humble pie can be hard to eat, especially if you don't believe you're in the wrong. Most companies really stink at apologizing, but if you learn to do it the right way, you can win over customers, even if you have negative reviews online.
The Apology Comes First
As humans, we have a basic instinct to protect ourselves, which can lead us to being defensive, even when we know we're in the wrong. We want to explain to people why we made the mistake. However, online, this can cause problems. When we try to explain, it feels like we're not taking full responsibility for our actions, and any apology that comes afterwards feels less sincere, if the reader even makes it that far.
Recently, MailOnline posted a story about George Clooney's wedding, and he called them out on getting the facts wrong. Here's their response: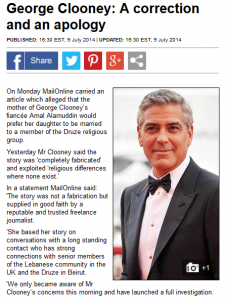 Do you see the problem here? Several paragraphs into the article, and even zoomed out to fit more of the story into the screenshot, and MailOnline still hasn't apologized! You can read the entire story here, and as you'll see, they do eventually say they are sorry for the misinformation, but by that time, the apology seems false. Many readers might not scroll down to read the entire story, thus missing the actual apology.
How much more powerful would this story have been for the apology to come first, followed by the reason why it happened, rather than the other way around?
When responding to an angry customer or negative review, the first words you type should be "I'm sorry" or "I apologize." Sometimes, an explanation makes sense, but even if you believe the comments to be unfounded, start with an apology for the bad experience.
Leave the Buts Out of It
If the first two words you type are "I'm sorry" or "I apologize," the third word should not be, "but…"
When you follow an apology with the word but, you're essentially negating the apology. You're saying that even though you're sorry, there was a god reason, so the complaint is unfounded. This is not a good way to make your apology sound sincere.
It's okay to explain what happened, but not to pass the buck. The word but means that you're not taking responsibility. Anyone who reads a negative review or comment about your company online wants to know that you are holding yourself and your employees accountable.
Back in 2012, a rogue Kitchen Aid employee posted an extremely offensive tweet about Barack Obama's grandmother, who had recently passed away. Kitchen Aid immediately deleted the tweet and apologized, and while it would have been really easy to say, "We're sorry, but the tweet was made by an employee who does not represent the Kitchen Aid brand and is no longer with the company," that's not what they did.
Deepest apologies for an irresponsible tweet that is in no way a representation of the brand's opinion. #nbcpolitics

— KitchenAid (@KitchenAidUSA) October 4, 2012
I would like to personally apologize to President @BarackObama, his family and everyone on Twitter for the offensive tweet sent earlier. — KitchenAid (@KitchenAidUSA) October 4, 2012
Not a but to be seen. The apology is much more sincere when the buts are left out of it.
Apologize Quickly
Social media moves so fast. However, the longer an unanswered complaint is out there, the more angry people get about it.
Once, I complained about service at a restaurant, where our waitress seemed to forget about us after taking our drink order, the food took absurdly long to come out of the kitchen, and our water wasn't refilled a single time, despite being one of the few patrons in the entire dining room. A few months later, someone finally responded to my negative review online, stating that they would look into the matter.
Look into the matter? Sixty plus days later? What exactly was the remedy at that point?
We never went back to that restaurant, because not only was the service bad, but it didn't seem like our complaints were being taken seriously.
Sometimes, it isn't possible to respond to a negative comment immediately, for whatever reason. But if you can't keep up with complaints online, you need to hire someone to help you. People want to know that they are being heard. I might have given the restaurant another try if someone would have replied to my complaint within a day or two, or even within a week.
Luckily, there are tools to help you listen online, so you can see brand mentions on Google and third-party review platforms like Yalp, TrustPilot, and TripAdvisor without spending hours every day scouring the Internet. Here are a few I recommend:
TweetDeck – this is a great option if your customers are active on Twitter. It helps you filter out the noise and assign response tasks to team members, so apologies can be made quickly and by the right people.
Sprout Social – you can type your brand name into this tool to see who is talking about your company across tons of social networks, blogs, and other sources, as well as to get an overall feeling for the sentiment people have about your company and the top keywords people associate with your brand.
Google Alerts – easily monitor brand mentions across the Internet with Google alerts. You'll get an email notification any time you're mentioned, which is super convenient.
Move the Conversation to a Private Forum
Once you've apologized initially, include contact information so that the conversation can continue. It often doesn't make sense, both for branding purposes and for logistical reasons, to hold the conversation publicly. That's why you see so many brands include contact information so the person with the problem can speak to them further about the issue.
This is a good practice even if there is no further response necessary. People who complain are, in many cases, chronic complainers. This doesn't mean that their complaints aren't legitimate, but some people can find something wrong no matter what. Do you really want complaints about your company to stack up online? Or would you rather that person have personal contact information so they can email you or call you privately whenever they have a complaint?
Keep in mind that it makes more sense to include personal contact information rather than a generic customer service helpline. No matter how well trained your customer service reps may be, if they have no concept of the problem and the customer has to repeat themselves, it can lead to further frustration. We've all been there – transferred from customer support person to person to person and having to explain the problem again every single time.
Note How You'll be Fixing the Problem
People who read your comments in the future want to know that they won't be experiencing the same problems if they purchase a product form your company or use your services. It's great to know that the person with the complaint received a refund or other benefits, but they still had to go through the hassle in the first place.
Don't worry if the solution is too complex to fully explain on the forum where the complaint was made. Sometimes, you don't have to go into details. You just have to talk about the fact that you'll be preventing the problem in the future.
I love this video apology from Jet Blue, because it shows that you can talk about how you'll be fixing the problem without being ultra-specific – the entire video is less than three minutes long:
Sometimes, it would take way too much time to explain the solution to the customer, as is this case for an airline. But you can explain, from the heart, that you're working to rectify the situation so that it never happens again.
Set Policies in Place
Lastly, as your company grows, make sure you have clear policies in place for responding to negative reviews and comments with apologies. You can use the tips in this post as a starting point, but make sure that you include specifics that make sense for your company.
Avoid must-use scripts, which can sound canned and insincere, but give your team suggestions on how to respond, including specific tactics for making connections with customers to resolve the problem. Teach your employees to always apologize first, instead of getting defensive, and realize that some employees, while great at solving problems, are not awesome at writing sincere apologies. That's okay – not everyone has to be good at everything. In fact, you might be exceedingly bad at apologizing online. This is often the case with owners because their business is their baby and they feel like a complaint is an attack. It's a completely natural emotion.
But it's important for you, as the leader, to identify people who are good at apologizing if it is not a skill you possess. Put certain employees in charge of this crucial tasks and empower them to make decisions when dealing with complaints.
The right apology can salvage a sale, even when the initial reaction was a disaster. Make this a priority for your company to earn customers' loyalty and to repair customer relationships when mistakes happen.
How To Apologize Online: The Ultimate Guide: Learn how to apologize online when confronted with a negative review on social …