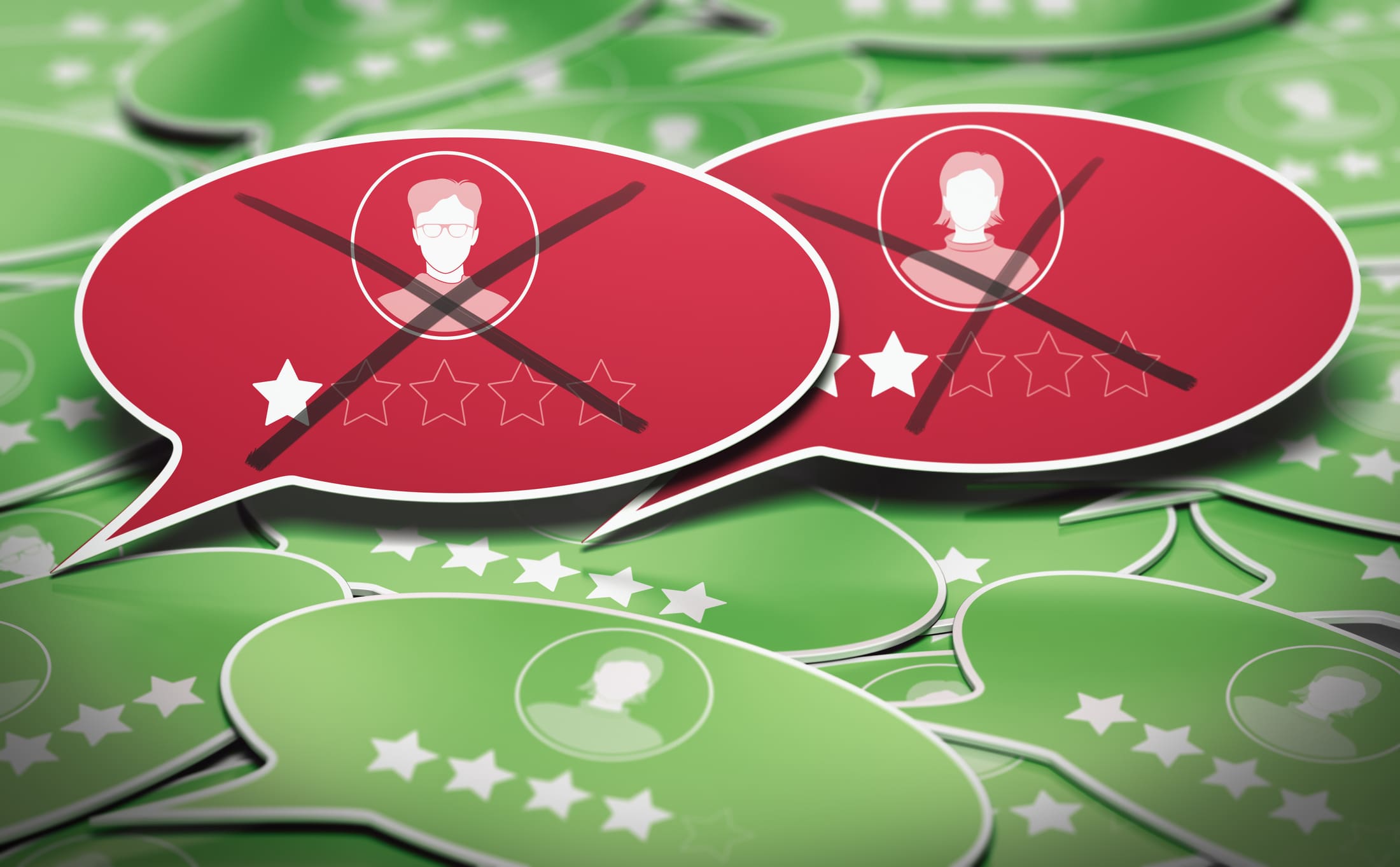 Is Removing Bad Yelp Reviews Possible: Yelp review removal can be tricky. Learn what you can — and shouldn't — do in our guide below. 
No matter how great your customer service may be, unhappy customers-and bad reviews-are inevitable. After all, business owners can't please 100% of the people 100% of the time.
In recent years especially, Google and Yelp are some of the most commonly used sites for user reviews. Having your business to be rated 5/5 is almost impossible, but this is also why taking control of your Google My Business and Yelp accounts is essential as a first step.
When a negative review happens, especially on the ever-popular Yelp review platform, it can really hurt your business.
So what should you do about it?
One of the most common questions asked about review sites like Yelp is this: "How do I remove a negative review?" Sadly, in many cases, you can't get a Yelp review removed.
And any reputation management company claiming to have an "in" with Yalp is bending the truth. Even if the scathing review is false, it is extremely hard to get Yelp to remove it and repair the damage it's caused your business's online reputation.
It makes sense. If they started removing bad reviews for any reason, legitimate complaints would get swept up in the deleting frenzy, fewer people would write reviews, and the overall picture of companies on the Yelp platform would be skewed. Even if you pay for advertising on Yelp, you likely won't be able to remove a negative review.
But just because it's hard to remove Yelp reviews doesn't mean you can't do anything at all.
What can I do about a bad Yelp review?
A bad Yelp review can hurt your business's online reputation and your bottom line. But that doesn't mean there's nothing you can do to combat that bad review, defend your online image and restore your good name.
When confronted with a negative or fake Yelp review, it's best to:
1. Begin the Yelp review removal process
While removing a negative Yelp review can be a challenge, it doesn't mean you shouldn't try. Yelp has a process in place to flag and report reviews that are fake or violate their review guidelines.
If you can prove to Yelp that a bad review is false or violates these rules, there is a chance you can get that Yelp review removed and eliminate the problem at the source.
The One Type of Review You CAN Have Removed
Even though the site won't help you in most cases, they will sometimes remove a Yalp review that runs afoul of Yelp's terms.
Yelp's Content Guidelines specify that any reviews may be removed if a review violates the site's TOS. Those found guilty of violating Yelp business policies likely include one or more of the following:
Threats/Harassment. Yelp looks down on any threats made to yourself, your staff or your business.
Lewdness. This includes bad reviews rife with profanity or content of a sexual nature.
Hate Speech and Other Displays of Bigotry. Yelp has a no-tolerance policy for hate speech or any statements including racist, sexist or homophobic slurs.
Irrelevant content. This may be anything from a political rant, comments on your company's employment practices or anything else that doesn't apply to the customer experience. It may also include any negative online reviews directed at the wrong business page, indicating a mistake by the user.
Promotional content. Any comment that promotes a business or product will likely get that review removed from Yelp.
Content that infringes upon privacy. This includes pictures of patrons or employees, full names that aren't typically made public knowledge, phone numbers and contact info, etc.
According to Yelp's guidelines, you also cannot post a review if there is a conflict of interest, but this can be extremely hard to prove unless the reviewer comes out and says, "My brother owns a pizza shop in the area that is much better than this one!" or something similar.
If you see a negative review that breaks one of these rules, you can flag the comment to report it as inappropriate. Yelp is pretty good at removing these comments, but it may take some time to see any action on it.
2. Gather evidence to give to Yelp
It may seem like the review you want to be deleted is a fake or an obvious violation of the Yelp Terms of Service. But because the Yelp review removal process can be difficult – and Yelp processes so many removals on a daily and monthly basis – it's important to collect as much data and info as possible beforehand.
Gathering evidence is key to supporting your removal claim and maximizing the probability of removal throughout the process.
To make the best case for removing that bad or fake Yelp review:
Verify that the reviewer is an actual customer. Comb through your business records to learn if the poster actually made a purchase through your company. If they haven't, you likely have a good case for flagging a fake review and proving a Yelp TOS violation.
Dig into the reviewer's online review profile. If the account is brand new and/or the reviewer has no history of reviewing other businesses, chances are good the review is fake.
Check for duplicates. If the review in question mirrors other reviews made at the same time, it's most likely a fake.
Analyze the review for other Yelp guideline violations. The appearance of obscenities, personal details or irrelevant claims should be highlighted and used to back up your removal request.
3. Claim your business on Yelp
Claiming and managing your Yelp business profile is the only way to flag bad Yelp reviews and start the removal process.
It's also a great opportunity to update your business location, contact info and other details that may be inaccurate or out of date.
If you already manage your business account on Yelp, skip ahead to Step 4 to flag the review. If not, simply visit the Yelp business profile page, search for your business and complete the verification process to claim your Yelp account.
4. Flag the Yelp review you want to remove
Once you're logged in and on your Yelp account, flagging the negative review for violating Yelp's terms is fairly easy.
How to flag a negative Yelp review for removal
From your business profile dashboard, find and click on 'Reviews' in the menu to the left.
Identify the Yelp review you want to remove.
Locate the three dots at the upper right corner of the review. In the dropdown, click 'Report Review."
Under "Why do you want to report this review?", select the TOS violation that provides the best support for removal.
Fill in the prompt with any evidence you gathered earlier, and submit.
5. Wait, then follow up on your review removal request
Once you've flagged the false review, your 'report review' request goes to Yelp moderators. These moderators generally take 1-2 weeks to review your request and decide on an outcome. Yelp will notify you once they have decided on your fake review removal.
Note: it's best to be patient throughout this process. Wait at least a week after submitting your request before you contact Yelp directly. If and when you do follow up with Yelp, be sure you have your case # and supporting evidence on hand.
It's not uncommon for attempts to remove a negative Yelp review to hit a dead end. Like many online review sites, Yelp tends to be very skeptical about requests to remove reviews, even fake reviews that blatantly violate their guidelines. When Yelp rejects your request, you always have the option to restart the process and ask Yelp to remove reviews for different reviews section violation.
While it's important to report online reviews that violate Yelp terms, the chances are still against you when it comes to removing negative Yelp reviews hurting your reputation.
What can I do if I can't remove negative Yelp reviews?
Even when your attempts to remove bad Yelp reviews fall short, all hope is not last. While having fake or negative Yelp reviews can be painful, there are steps you can take to mitigate the damage.
1. Respond to negative reviews
Can't seem to remove negative Yelp reviews? Try online review response! Responding to bad Yelp reviews–and doing so the right way–can help take the sting out of bad online feedback and show online shoppers that you take the customer experience seriously.
How to Respond to Bad Yelp Reviews
Don't look at negative Yelp reviews or any other reviews as a bad thing, because this is an opportunity to let your customer service skills shine. Responding to a negative Yalp review can help you show potential customers that you are listening to your concerns. It may even provide a lift for your online reputation!
Make sure you have an online reputation damage control plan. This ensures that whoever sees the negative review for your company first knows how to handle the response. Then, make sure you follow this plan for dealing with negative reviews online.
The key? Be polite, avoid confrontational language, and include contact information so you can deal with online reviews and complaints privately.
With every online reviews response you write, be sure to:
Thank the customer for their feedback.
Be polite and apologetic. Issuing an apology, even when you aren't in the wrong, can go a long way.
Send a direct message that addresses the reviewer by name. This adds a personal touch that can often disarm angry customers and sometimes make all the difference for those who had a genuinely negative experience.
Accept responsibility. Instead of making excuses or getting defensive, accept responsibility for the issue and provide reassurance that you're addressing the problem. Don't engage in factual disputes, as those can backfire in a hurry.
Offer a solution. Extending your hand and offering even a modest compromise demonstrates an act of goodwill.
Take the problem offline. Business owners that offer to solve the problem offline help prevent things from becoming even more embarrassing or spiraling further out of control.
A smart, measured negative review response strategy is key to managing online crises and preventing negative Yelp reviews from doing more damage to your online reputation.
This post is a great source for learning the art of apology, which is especially helpful when dealing with negative reviews on the Yelp platform.
2. Encourage more positive reviews on Yelp
A negative Yelp review can sometimes take the oxygen out of the room, hogging all of the attention while overshadowing the positive feedback your business is getting online. Even so, finding ways to encourage more positive and authentic Yelp reviews can help correct that imbalance and provide consumers more reasons to trust your business.
The power of positivity
When removal isn't an option, one of the best ways to deal with negative reviews on Yelp is to overwhelm your listing with positive reviews. It's true that Yelp discourages business owners from asking customers to leave a positive review, but you can have a sign near your register, on your website, etc. that points people toward your Yelp listing.
Remember, people are typically more likely to leave a review when they have a strong, negative feeling and want to "warn" others to avoid certain local businesses. By reminding people that you're on Yelp, you'll get more positive reviews as well.
What's more: encouraging positive reviews isn't just a great way to counterbalance negative reviews on Yelp. It's also a great opportunity to expand your Yelp review presence, improve your overall Yelp ratings and reach more customers across the site. With each new positive review added to the site, you create yet another positive asset to strengthen your brand and push your rating over the top.
That said, it's important to listen to feedback. If more than one person says that same thing, you probably have a problem that needs to be addressed. Give your customers the best service possible, avoiding the same mistakes in the future. That way, a few negative reviews on your listing really won't matter. Instead, readers will see the overwhelming number of positive reviews about your business.
Coping with Fake Reviews
Sometimes, you'll come up against a completely false Yelp review. Unfortunately, Yelp is still of little help in most cases, and will not help you remove the bad review most of the time, unless it is really egregious.
Responding to the harmful Yelp review politely is still your best bet, though you also have the option of speaking with a lawyer to legally force the removal of the false Yelp review. Please note that I am not a lawyer and nothing here should be taken as legal advice. If you truly want to explore this option, talk to a lawyer who has experience dealing with Yelp reviews and their removal.
A word of caution: this is usually a very expensive endeavor and doesn't make sense in most cases. Because Yelp reviews are anonymous, you have to first subpoena the records to figure out who left the defamatory review so your lawyer can send a cease and desist letter. If the case goes to court and the judge rules in your favor, you can then get a court order sent to the site to remove a Yelp review. This process takes weeks or even months.
In rare cases, you may even be better off simply allowing fake reviews to remain on your listing. Like with legitimate negative reviews, fake reviews may sometimes offer an opportunity to let your customer service skills shine.
(3)Work with a review management expert
Removing, managing, and responding to bad Yelp reviews can be a lot of work, particularly for the business owner with limited time, resources or expertise to do so.
Running a small business can be demanding. Other than Yelp reviews, there are so many platforms that you need to monitor – such as Google, TripAdvisor, Glassdoor, etc. And while managing bad reviews and protecting your business's reputation is critical, diverting time and energy toward that effort can drain your precious resources away from what's important.
Fortunately, there is a solution. With the right online reviews expert at your side, you have the tools and expertise to manage bad reviews and turn the online tide in your favor.
A proven and experienced review management expert can provide guidance to remove negative Yelp reviews whenever possible. The right online reviews specialist can also help create an online reviews response and review generation strategy that puts you in control of your online footprint.
An effective Yelp review management provider helps business owners:
Quickly remove negative Yelp reviews that violate Yelp standards
Employ cutting-edge search engine optimization techniques to delete or remove a review from search engine rankings
Create a review response strategy that mitigates negative comments and their impact on future customers
Implement a positive review generation approach that increases good reviews and boosts your overall Yelp ranking
Help you track and monitor new reviews so you can identify problems before they get worse
Build a positive review site presence that boosts your business's reputation and your bottom line
One last note
Keep in mind that not every review site has the same policies as Yelp. However, as a rule, any reputation management company claiming that they can ALWAYS remove negative reviews or other user content on any website is not being honest with you. In many cases, a reviews specialist can file report review requests on your behalf if content doesn't follow Yelp's content guidelines, and they can help you come up with creative ways to get more positive reviews from happy customers. But, they can't themselves remove online reviews posted by Yelp users – only the review site in question can do that.
So, before you pay for any service, read the fine print carefully, and make sure that anything a business reputation manager does on your behalf follows the Yalp review site's guidelines. Dealing with negative reviews the right way might take more time, but it's key to protecting your business's online reputation over the long term.
Is Removing Bad Yelp Reviews Possible: Yelp review removal can be tricky. Learn what you can — and shouldn't — …